Structure your problem solving

Share insights with colleagues

Easily escalate problem impact

Access your data from anywhere

Explore avenues of problem solving

And more ...

You are registered in RCA2GO, but forgot your access password?

An automatically generated email will be sent to your email address allowing you to reset your password.

New RCA2GO is now default version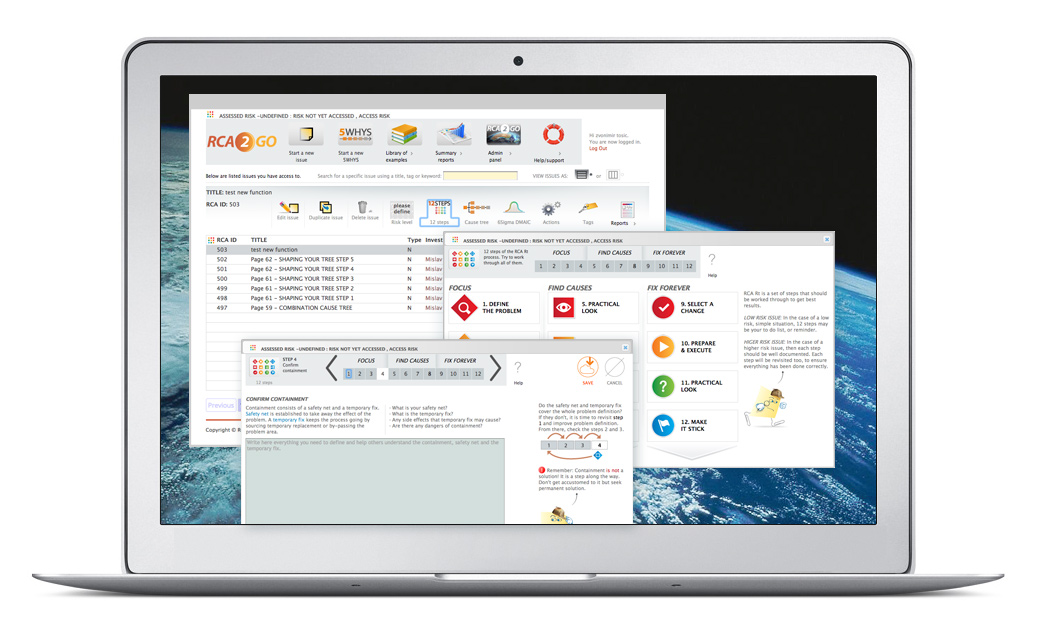 Dear user,
The new version of the RCA2GO software is ready to become a default version on start up. When you log in, you will see the new version. The old version is available only if you tick old version option above.

New RCA2GO includes
New User Interface

— A friendlier, new design, easier for use with touch-screen devices like an iPad or smart phones. It increases productivity and ease of use.

The New Cause Tree

— The New Cause Tree takes advantage of many improvements available in newer versions of web browsers and development technologies, and is designed with mobile devices in mind. Cause trees were never easier to create.

Custom User Interface

— RCA2GO now allows users to customise the way they see the Issues and information contained in them.

Upgraded Reports

— RCA2GO offfers a rich variety of reports, across all aspects of investigation and issue analysis. Reports are necessary tools to get authority and resources to solve the Issue, to explain Issues in detail to the stakeholders, and communicate successfully how proposed changes will work.
And much more.

The new RCA2GO operates on all browsers that have adopted the international web design standards, and will operate on version 8 and above of Internet Explorer (IE 8+). Some screens may not be properly rendered on IE 7 and earlier. Old version of the software will continue to be available into the foreseeable future for users who are unable to upgrade to new versions of web browsers. However, it will not be upgraded with new enhancements or new features — it stays as it is. (See above how to activate it)


RCA Rt is a structured problem solving methodology. It is complimented with RCA2GO, a web-based rich software toolbox and issue management system available anytime, anywhere. Endless scalability in RCA Rt and accessibility of RCA2GO software empowers your entire team to solve and improve together. © Copyright 2017 by RCA Rt Pty Ltd.